Number 102 • November/December 2014
ISSN 1944-7639 (online version)
Contents
CLIR to Launch New Program for Digitizing Hidden Collections
2014 Hidden Collections Grantees Named
Snapshots from the Forum
Innovation, Collaboration, and Models: 2015 Hidden Collections Symposium
CLIR Board Elects Ingrid Parent; Appoints New Executive Committee
CRL and Partners Publish New LIBLICENSE E-Resources Model License
Briefly Noted
CLIR Issues is produced in electronic format only. To receive the newsletter electronically, please sign up at https://www.clir.org/pubs/issues/signup.html. Content is not copyrighted and can be freely distributed.
CLIR to Launch New Program for Digitizing Hidden Collections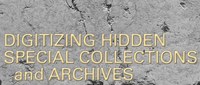 CLIR will embark on a major new program to fund the digitization of rare and unique content in cultural memory institutions, thanks to a grant from The Andrew W. Mellon Foundation announced this week. The national competition is built upon the model of CLIR's Cataloging Hidden Special Collections and Archives program, launched in 2008, which awarded its final round of grants this month.
In 2015, CLIR expects to award through the new program about $4 million to institutions holding collections of high scholarly value. Developed through consultation with digital library practitioners and funders, and with input from the broader community, the program will be designed to:
encourage approaches to digitization that make possible new kinds of scholarship in the digital research environment
support the digitization of entire collections, rather than selected items
promote strategic partnerships, since few institutions have the capacity to handle and scan the wide array of objects in their collections
promote best practices for ensuring the long-term availability and discoverability of digital files, and
ensure that digitized content is made available to the public as easily and completely as possible.
"We thank the Mellon Foundation for its support of this new program, which will encourage efficient, innovative, and deeply collaborative approaches to creating full access to content of high value to scholars, students, and the broader public," said CLIR President Chuck Henry. "The grant contributes significantly to CLIR's Coherence at Scale for Higher Education, a project that aspires to align local digitization efforts within a national context. Recipients of the awards for digitization, which we expect will include museums, archives, historical societies, and other cultural institutions, will have the power to extend the impact of their work radically, facilitating new forms of inquiry and potentially transforming our understanding of human history, cultures, and thought."
"This tremendously exciting new initiative will be essential for filling in gaps in our digitized cultural record," said Dan Cohen, executive director of the Digital Public Library of America and CLIR Board member. "Funds for bringing unique materials online are scarce, and often when rare collections are digitized only a handful of representative items are selected. Under CLIR's guidance and with the Mellon Foundation's generosity, Hidden Collections will surface what is currently only available to a handful of scholars, which is truly something to applaud."
CLIR will post complete program guidelines on its website and issue a request for proposals in January 2015. Webinars for potential applicants will be scheduled early in the new year. To receive updates and reminders by email, click the link under "Join our Mailing List" at https://www.clir.org/fellowships/hiddencollections. You can also follow the program on Twitter @CLIRHC.
A review panel, comprising scholars from a range of disciplines and experts in metadata standards, copyright and intellectual property, and digital pedagogy, will be formed to evaluate proposals and select award recipients. Funding decisions will be announced in December 2015.
---
2014 Hidden Collections Grantees Named
Nineteen projects have been awarded 2014 Cataloging Hidden Special Collections and Archives grants:
Adirondack Historical Association
Living with Wilderness: Enhancing Access to The Adirondack Museum Historic Photograph Collection, $157,685
Appalshop, Inc.
We Still Scream: The Mountain Eagle/Tom and Pat Gish Archives, $90,605
Bowling Green State University
Getting to the Core: Cataloging 45-RPM Records, $64,064
Computer History Museum
Computer History Museum Archives Processing Project (CHM APP), $274,560
Go For Broke National Education Center
Segregated Japanese American Military Units of World War II: A Collaborative Online Repository of Oral Histories, Photos and Documents, $260,975
Haverford College
Quaker Diaries, Journals, Commonplace Books and Small Manuscript Collections, $59,328
Johns Hopkins University
Processing the Globe Collection and Press, $180,156
President and Fellows of Harvard College on behalf of the Harvard Medical School
Bridging the Research Data Divide: Rethinking Long-term Value and Access for Historical and Contemporary Maternal, Infant and Child Research, $367,602
Solomon R. Guggenheim Foundation
Illuminating New York's Art and Performance Heritage from the 1960s to the Present: Solomon R. Guggenheim Museum Archives Audiovisual Collections, $122,208
Storefront for Art and Architecture
Arranging and Describing Storefront's Archive, $115,600
The Board of Trustees of the University of Illinois
Cataloging Cavagna: Italian imprints from the Sixteenth through the Nineteenth Century, $498,942
The Mariners' Museum Library
The Maritime World in Photographs: Cataloguing the Photo Negatives of The Mariners' Museum, $325,500
The Rector and Visitors of the University of Virginia
Hidden in Plain Sight, $221,379
The Regents of the University of California
La Raza Newspaper & Magazine Records: Providing Access to the Mexican American Civil Rights Movement, $148,021
Trace Foundation/Latse Library
Tibetan Audio-Visual Collections at Trace Foundation's Latse Library, $160,389
University of Kentucky Research Foundation
Action in Appalachia: Revealing Public Health, Housing, and Community Development Records in the UK Libraries Special Collections Research Center, $156,439
Wellesley College
The Wellesley Centers for Women Records, 1974-, $68,550
WGBH Educational Foundation
National Educational Television Collection Catalog, $458,619
WHYY, Inc.
Fresh Air in the Sunlight: Opening Access to Forty Years of WHYY's Fresh Air with Terry Gross, $254,769
More detail on this year's funded projects can be found at https://www.clir.org/hiddencollections/awards/for-2014.
This is the last group of projects supported by the Cataloging Hidden Special Collections and Archives awards program. Created in 2008 and supported by ongoing funding from The Andrew W. Mellon Foundation, the program has awarded 129 grants totaling about $27.3 million. As of June 2014, the program had funded the creation of a reported 3,240 finding aids and collection-level records; the processing of a reported 46,596 linear feet of archival materials, plus processing for an additional 3,747 cubic feet of materials; the creation of 82,587 new MARC records; and the creation of item-level metadata for another 209,527 items.
A registry of hidden collections and archives, based on information supplied by all applicants, is available at https://www.clir.org/hiddencollections/registry.
With new funding from The Andrew W. Mellon Foundation, CLIR will launch a successor program, modeled on Hidden Collections, to fund digitization of rare and unique materials (see previous story).
---
Snapshots from the Forum

The 2014 Digital Library Federation (DLF) Forum, held October 27–29 in Atlanta, drew a record 416 participants. Many of the sessions were livestreamed and are available at http://www.diglib.org/forums/2014forum/livestream-schedule/. In addition, a series of blogs, contributed by recipients of DLF New Professionals Fellowships, DLF Forum Underrepresented Groups Fellowships, and Cross-Pollinator Awards, provide personal perspectives on the Forum. The 2015 DLF Forum will be held October 26–28 in Vancouver, British Columbia.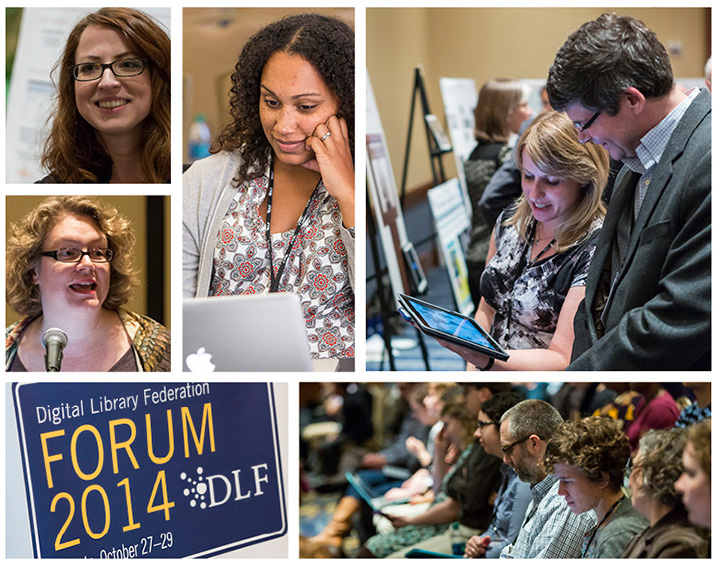 ---
Innovation, Collaboration, and Models: 2015 Hidden Collections Symposium
We invite you to join us on Friday, March 13, in Philadelphia, for the 2015 Cataloging Hidden Special Collections and Archives Unconference and Symposium: Innovation, Collaboration, and Models.
At the symposium, recipients of CLIR's Cataloging Hidden Special Collections and Archives awards will address problems that today's library and cultural heritage professionals face as they organize collections and make them accessible to scholars and other users. A pre-symposium unconference will be held on Thursday, March 12. Registration for both the symposium and unconference are open to the public.
Both events will take place at the Kislak Center for Special Collections, Rare Books and Manuscripts of the University of Pennsylvania Libraries. CLIR will provide breakfast and lunch to symposium registrants on March 13, and will host a reception for both unconference and symposium registrants on the evening of March 12. See the schedule for an up-to-date list of sessions and events.
Registration closes on January 13, 2015. Space is limited so reserve your spot as soon as possible by filling out the event registration form.
---
CLIR Board Elects Ingrid Parent; Appoints New Executive Committee
Ingrid Parent
CLIR is pleased to announce the appointment of Ingrid Parent to the CLIR Board of Directors.
Ms. Parent is university librarian at the University of British Columbia, a post she has held since July 2009. That same year, she won the Canadian Association of Research Libraries (CARL) award for Distinguished Service to Research Librarianship. She was previously assistant deputy minister at Library and Archives Canada, where she was responsible for the development, description, and preservation of Canada's documentary heritage. From 2011–2013, she served as president of the International Federation of Library Associations and Institutions (IFLA). In 2011, she received an honorary doctorate from the University of Ottawa. Through the course of her work, she has focused particular attention on digital opportunities for memory institutions, including the collection of electronic publications and archival records, the provision of new and efficient digital services, and converting information to digital formats.
"Two of the most important concepts that inform CLIR's vision and mission are collaboration and coherence," said CLIR President Chuck Henry. "Ingrid Parent's accomplishments embody these goals. She has worked tirelessly to bring the world of libraries together to explore shared concerns and address common challenges, and to improve services in an increasingly complex world. We welcome her insight and experience to our Board."
The Board also appointed a new executive committee:
Chair: David Gift, associate vice president for community engagement, Internet2
Vice Chair: Leslie Weir, university librarian, University of Ottawa
Treasurer: Kathleen Fitzpatrick, director of scholarly communication, Modern Language Association
Karin Wittenborg, university librarian at the University of Virginia, retired from the Board after nine years of service.
A full list of CLIR's Board members is available at https://www.clir.org/about/governance.
---
CRL and Partners Publish New LIBLICENSE E-Resources Model License
The Center for Research Libraries (CRL), in collaboration with several partners, including CLIR, has released a major upgrade of the LIBLICENSE Model License Agreement. The new model license is a tool for library investment in electronic resources that incorporates the best practices of the library profession and the best advice of legal and publishing professionals. The LIBLICENSE Project, started in 1997 at Yale University by Ann Okerson, who now serves as senior advisor at CRL, provides a rich source of information and guidance for libraries and other institutions seeking to license digital resources for their faculty, students, and researchers.
The model license outlines the main provisions a good library e-resources content license should contain, and highlights key points for decisions and negotiations with publishers. The document is expected to support libraries' efforts to serve their users and achieve the core mission of preserving intellectual heritage in the digital age by negotiating the best terms of use. The original LIBLICENSE model license, released in 2001 with support from CLIR, has supported long-term access and stewardship goals; the new revision will help librarians address a new generation of issues and challenges.
The effort was supported by The Andrew W. Mellon Foundation under the auspices of CRL, in partnership with CLIR, the Association of Research Libraries, the California Digital Library, the Canadian Research Knowledge Network, and the NELLCO Law Library Consortium, as well as the Emory University Libraries.
A full news release is available at http://www.crl.edu/news/11103.
In early 2015, the project expects to release an updated "Create Your Own License" software.
---
Briefly Noted
CLIR's Annual Report 2013-2014 Now Available
Postdoctoral Fellowship Program Deadline December 29, 2014
Rovelstad Scholarship in International Librarianship Deadline January 23, 2015
Chuck Henry Discusses CLIR and its Programs in Library Café Interview